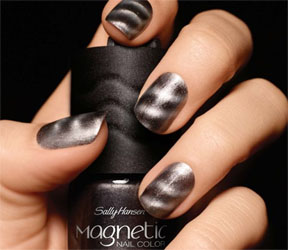 Have you ever looked at one of those Tiger Eye stones, and thought 'That would look really pretty on my nails'? Well, someone at Sally Hansen must have! They have a new nail polish out, called Magnetic Nail Color, and it looks exactly like a Tiger Eye once it's on your nail!
I've been eyeing this polish for a while, so when I finally got one in Graphite Gravity, I was really excited to try it out. The first time I tried it (on my cousin's nails, since I still had polish on), we must not have been in the right light, though, because we didn't really see the waves that you see in the advertisements. In fact, I thought that there was maybe a problem with the magnet at first. So, I tried a stronger magnet, and definitely saw more of a difference. I was a little disappointed with this at first, but then the next day, I decided to try it out myself.
It worked so much better, and just as it is advertised! I love the gradient waves on my nails right now, and I can definitely see myself picking up a few more of these colors! I think Silver Elements and Kinetic Copper are absolutely beautiful colors, too, so I'll probably go for one of those.
Have you tried this polish yet? What's your favorite color?
* I did receive this item for free. All opinions are my own. Picture is from here