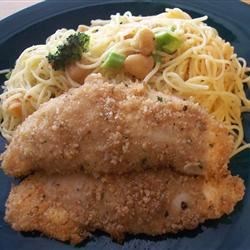 Today, I thought I'd do something I've never done before on this blog: share a recipe with you guys! Cornelius and I love this breaded chicken recipe, especially since it's so easy, and (I think) healthier than the shake n' bake method. I found the recipe on
allrecipes.com
, which is a great search engine for those of us that have absolutely no idea what to make for dinner. I would like to start looking more at cooking blogs to get ideas, but since I've been so focused on the knitting/crocheting portion of my own blog, I've really only been looking at blogs related to that. So, if you know of any good cooking blogs, please let me know!
Ingredients
4 boneless chicken breasts

1 cup Italian dressing

2 cups seasoned dry bread crumbs
Directions
Preheat oven to 350 degrees F (175 degrees C)
Dredge chicken breasts in salad dressing, then coat completely with bread crumbs. Place coated chicken breasts in a lightly greased 9x13inch baking dish and bake in the preheated oven for about 30 minutes, or until the chicken is cooked through and the juices run clear.
Nutritional Information
Calories: 531
Total Fat: 21.4g
Cholesterol: 69mg